Alcohol
Look for creams and face toners that use small amounts of alcohol. Percentages should be based on recommendations from dermatologists. Irritation, dryness or other problems should not appear.
Alcohol has antibacterial properties and plays and may play an important part in the preservation system of products.
Avoid commonly used synthetic denaturing agents.
Category

Manufacturer

Anti Aging

Yes (28)

Clearance

Short Life (9)

Certifications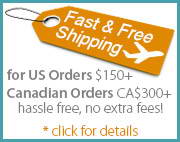 Need help picking a color? Concerns about ingredients?
Call us @ 1.877.515.8783
Toll-Free Canada or US
Or email us here.
Store hours:
Mon-Thurs 9-3 PST
Fri 9-1 PST