Formaldehyde
Some ingredients release formaldehyde, which is linked to cancer. The EPA classifies it as a possible carcinogen. The following ingredients either release or breakdown into formaldehyde:
bronopol (or 2-brono-2-nitropropane-1,3-diol)


diazolidinyl urea


DMDM hydantion


imidazolidinyl urea


quaternium 15
In a study conducted by the Campaign for Safe Cosmetics on 28 children's skin care products, 23 (or 82%) contained formaldehyde at levels between 54-610ppm.
Category

Manufacturer

Anti Aging

Yes (27)

Clearance

Short Life (9)

Certifications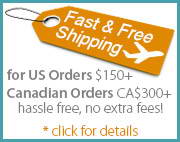 Need help picking a color? Concerns about ingredients?
Call us @ 1.877.515.8783
Toll-Free Canada or US
Or email us here.
Store hours:
Mon-Thurs 9-3 PST
Fri 9-1 PST